WELCOME TO SOUND SUMMIT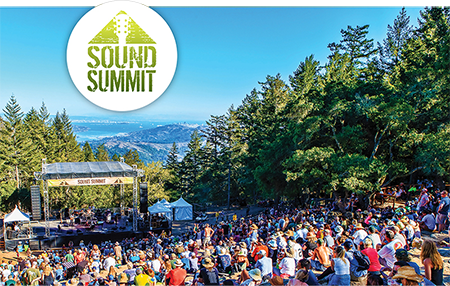 Thanks to all of you who joined us on the mountain for a great day with Wilco, Los Lobos, Bill Frisell, The Stone Foxes, and Matt Jaffe in support of a great cause. In the wake of a joyful and successful Sound Summit, we're happy to announce that Root & Branches Conservancy has made a $60,000 grant to Mount Tam, an increase of 50% over our gift to the park in 2015! Combined that's $100,000 raised for this special place in the neighborhood over the past two years.
It's a rewarding experience to stage this festive event in such a stunning location that both nourishes community spirit and provides direct support to the mountain. Looking forward to Sound Summit '17 this September and many more to come!
---
As its name implies, Sound Summit is an intentional double-entendre – at once a musical gathering and an image of a strong and whole peak. In short, one exists to help sustain the other.
Sponsored by Roots & Branches Conservancy, Sound Summit is held at the historic Mountain Theater, a 4000-seat stone amphitheater set high atop the mountain with stunning views of San Francisco Bay. Beloved by generations, Mount Tam is a treasure of our local landscape, an ongoing source of natural beauty, fresh air and water, recreation, contemplative activity and inspiration to the Marin County, San Francisco, and greater Bay Area communities.
The success of Sound Summit and the potential for it to remain a festive and beneficial annual event lies to a great extent in your hands. Given the sensitive nature of the environment in which we're allowed to hold this celebration, it's key that you tread lightly, respect the mountain, be kind and courteous to your fellow concert-goers, and follow the few rules we ask of you.
Our ultimate aim is to make Sound Summit an annual, sustainable revenue source, a festive event that honors the spirit of the mountain, its legacy, and its many gifts. So come join us for a day of great music and celebration a bit closer to the clouds and help Mount Tam continue to nourish and inspire. Consider your presence some good deed doing for a very special place in the neighborhood. We feel Sound Summit is as much a community spirit as it is a community event. Hope to see you on the mountain!