FESTIVAL INFORMATION
WELCOME TO SOUND SUMMIT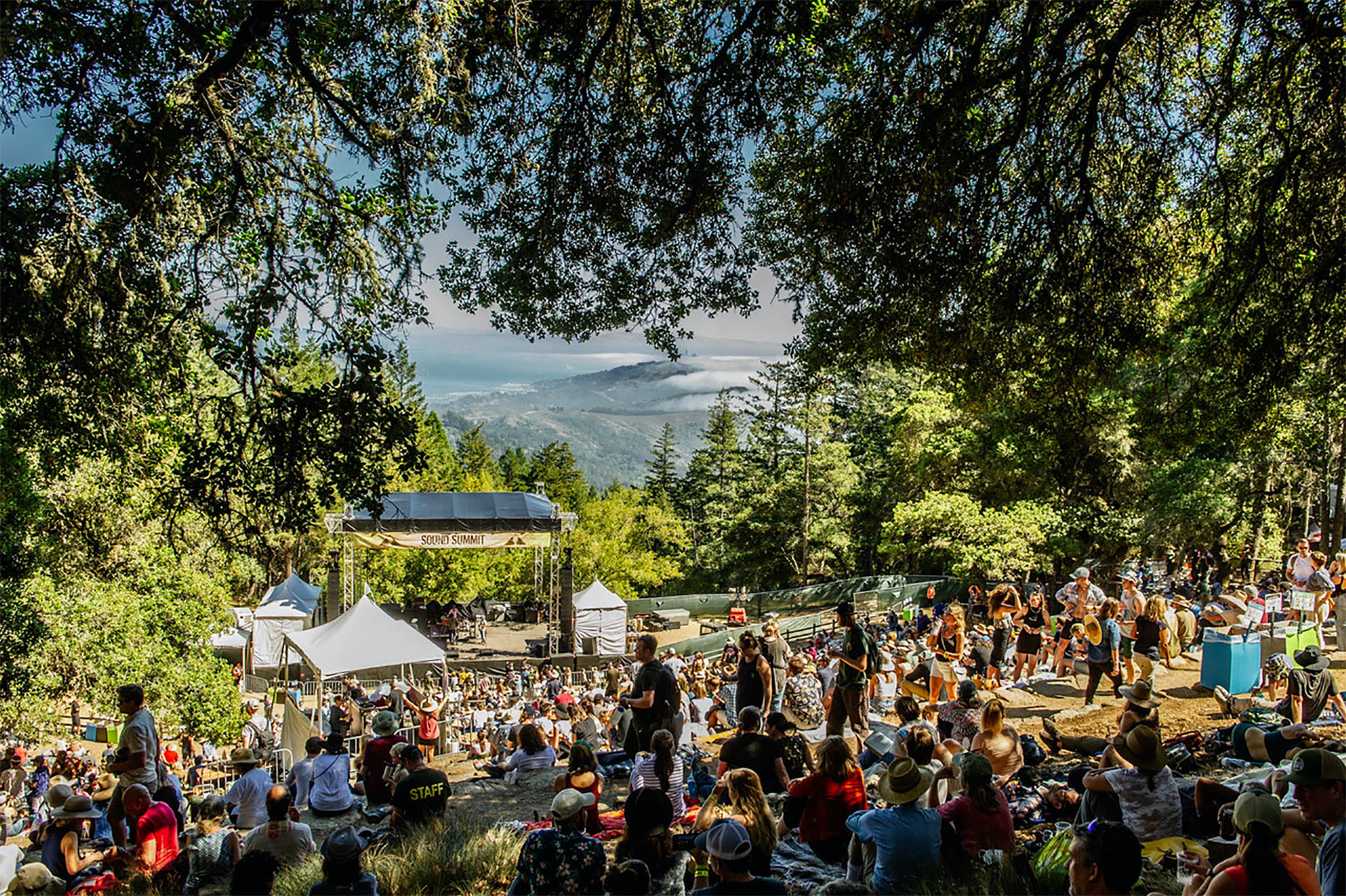 Held in an intimate venue set amidst an expansive landscape, Sound Summit is a musical gathering like no other in the Bay Area. The festival is staged at the historic Mountain Theater, a 4000-seat natural stone amphitheater with stunning views of San Francisco Bay and beyond. Add a sun-filled day, a resonant cause, and a healthy dose of joy, spice generously with stellar music, and you have a recipe for a magical mountain brew.
Produced as an annual celebration of Mount Tamalpais State Park by Roots & Branches Conservancy, Sound Summit has donated over $200,000 to Mount Tam to date. And just as rewarding, we've been able to do so fueled by great performances from the likes of Wilco, Bob Weir & Phil Lesh, Tedeschi Trucks Band, Herbie Hancock, Jim James, Grace Potter, Lukas Nelson & Promise of the Real, Father John Misty, Dr. John & The Night Trippers, Los Lobos, Bill Frisell, Preservation Hall Jazz Band, Nikki Lane, Allah-Las, Vetiver, The Mother Hips, The Stone Foxes, Cha Wa, Con Brio, and many more, providing an incredible soundtrack to a stirring backdrop.
The same venue was the site of the Fantasy Faire and Magic Mountain Festival (the first rock festival in America) in the summer of 1967 – the Summer of Love – a week before Monterey Pop. Over 30 bands including Jefferson Airplane, The Doors, and The Byrds played over two days to a buoyant and colorful crowd and unknowingly birthed a tradition that's still thriving a half-century later. In that respect, Sound Summit is treading on hallowed musical ground and keeping the vibe alive for all the best reasons.
As its name implies, Sound Summit is an intentional double-entendre – at once a musical gathering and an image of a strong and whole peak. In short, one exists to help sustain the other. Beloved by generations, Mount Tam is a treasure of our local landscape, an ongoing source of natural beauty, fresh air and water, recreation, contemplative activity and inspiration to the Marin County, San Francisco, and greater Bay Area communities.
The success of Sound Summit and the potential for it to remain a joyful and beneficial experience lies to a great extent in your hands. Given the sensitive nature of the environment in which we're allowed to hold this celebration, it's key that you tread lightly, respect the mountain, be kind and courteous to your fellow concert-goers, and follow the few rules we ask of you.
So come join us for a day of great music and celebration a bit closer to the clouds and help Mount Tam continue to nourish and inspire. Consider your presence some good deed-doing for a very special place in the neighborhood. We feel Sound Summit is as much a community spirit as it is a community event. Hope to see you on the mountain!