SPONSORSHIP
 BECOME A SPONSOR
Sound Summit is made possible by the concerted efforts of Roots & Branches Conservancy and the generosity of sponsors across a wide range of levels. We welcome and appreciate your interest in joining our team of community partners, whether you're an individual, a family, a local business, a large company, or a philanthropic foundation. Please scroll down for more information about our Sound Summit sponsorship tiers and benefits, as well as an overview of the event, its recent success, and future goals.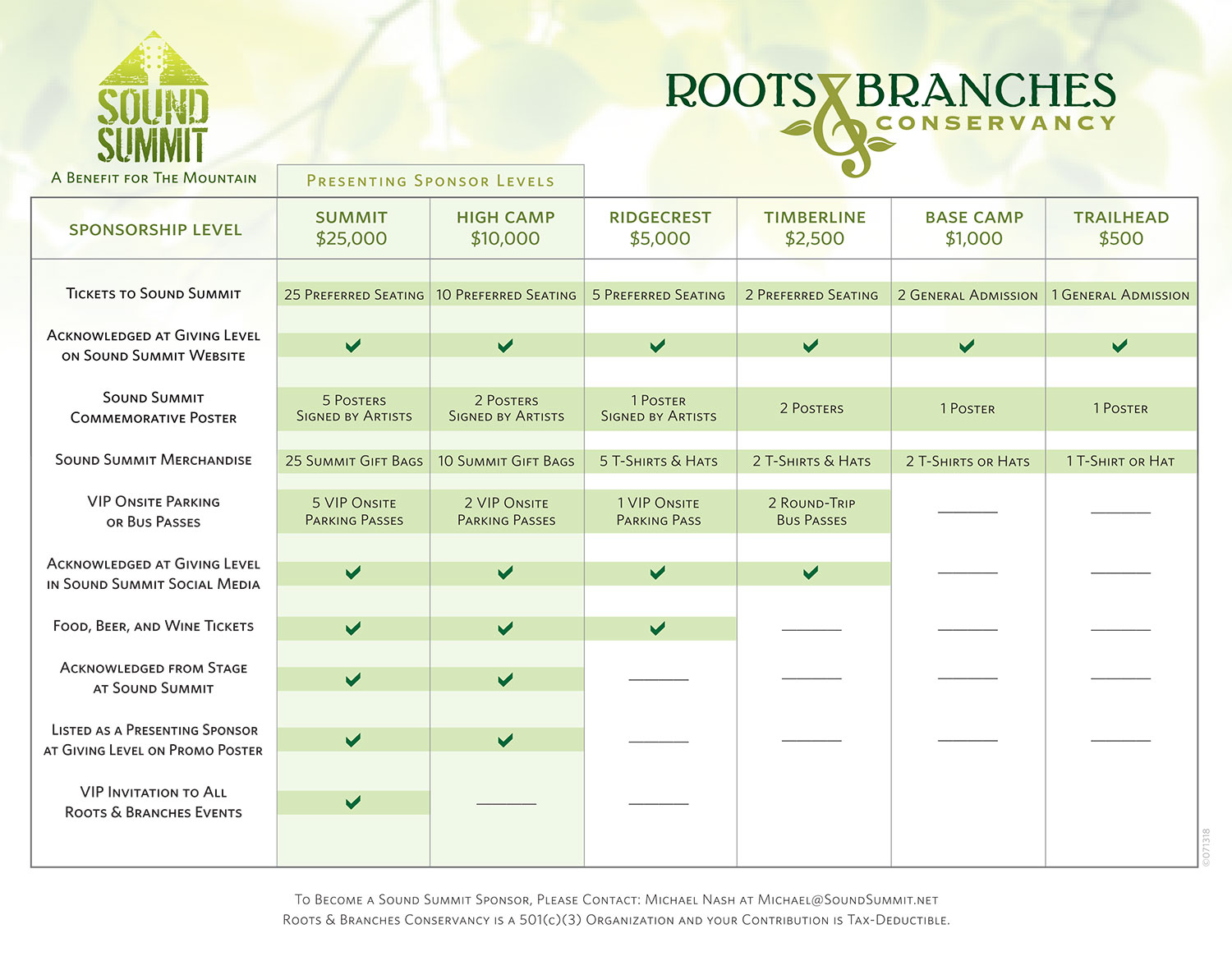 To become a Sound Summit sponsor, please contact Michael Nash at michael@soundsummit.net
Roots & Branches Conservancy is a 501(c)(3) organization and your contribution is tax-deductible.

OVERVIEW & OUTREACH
At the outset of 2015, we set out to launch a successful production in the form of a spirited community gathering that would raise both financial resources for Mount Tamalpais State Park and awareness of the ongoing challenges it faces in continuing to nourish and inspire.
Whether you lent a hand by purchasing a ticket, becoming a sponsor, making a charitable contribution, volunteering your time, or simply voicing your support in spirit, we could not have done so without you.
Sound Summit was so born and not long after a joyful and resonant September day with Tedeschi Trucks Band, Dr. John & The Night Trippers, The Mother Hips, and more, we were pleased to announce a $40,000 grant to Mount Tamalpais State Park.
Over the next three years, we were able to add another $160,000 in grants, for a four-year total of $200,000. Our goal is to target these funds to substantive needs and projects in accordance with our mission at Roots & Branches Conservancy.
Poised majestically on the western edge of a dramatic coat, hight above headlands, bay, cityscape, Golden Gate, and the endless Pacific, Mount Tam is a gem of our local landscape. Beloved by generations, it serves as an ongoing source of natural beauty, fresh air and water, recreation, contemplative activity, and inspiration to both the Marin County and Greater Bay Area communities.
While Mount Tam thankfully does not face the threat of closure, it is unquestionably wanting for resources, services, equipment, and personnel in the wake of drastic cuts to the State Parks' budget in recent years, key to the sustenance of the park. Most of the work it takes to keep the mountain safe and seemingly untouched by the modern world tends to escape our general focus, but it is a concerted and ongoing effort, deserving of our attention and support.
Staged close to the clouds at the 4000-seat stone amphitheater with its stunning views of the Bay, built by the Civilian Conservation Corps over 75 years ago, Sound Summit is programmed to attract a broad demographic, one that reflects the diversity of those who regard Mount Tam as a local treasure, as well as those yet to discover it, be they 8 or 80. Sound Summit additionally offers a unique forum in which artistic resources are brought to bear at the very environmental resource they serve to support.
While our venue capacity is 4000, our reach via social media, advertising and messaging by our performing artists and many partners is exponentially greater, far in excess of 100,000. By these additional means, we're able to broaden awareness, interest, and engagement well beyond the event itself.
Ultimately, Sound Summit is an annual sustainable revenue source, a festive event that honors the spirit of the mountain, its legacy, and its many gifts. It is in that spirit that we reach out to you.
Our goal is persistence of vision and we feel confident that Sound Summit is a creative and dynamic gesture of support to a very special place in the neighborhood. We hope you feel the same and deeply appreciate your consideration and assistance.